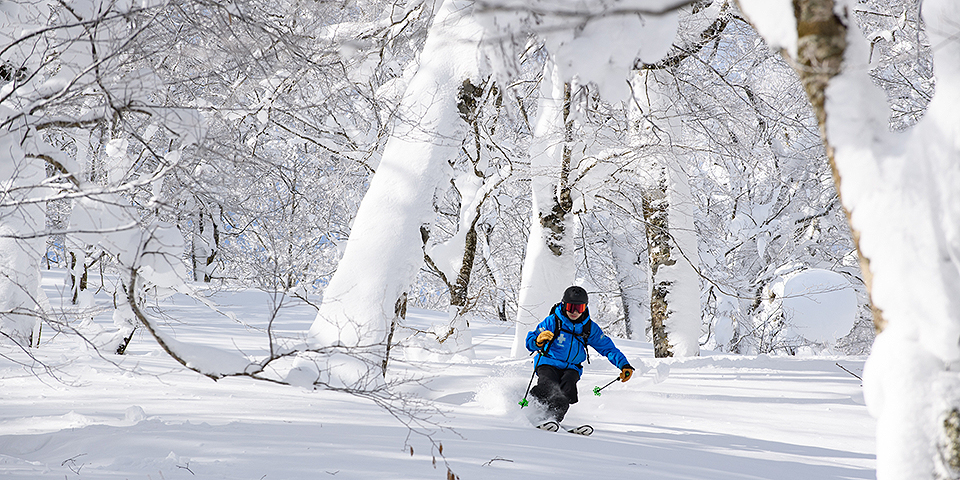 "Gousetsu" Tree Run Area Guide / Experience Programs
A trained guide who fully understands the topography will guide you around Geto Kogen so that you can make the most out of your experience. Dive into the best tree run area of the day with your guide!
Price
4,000 yen per person Up to 5 people
*Additional 500 yen for Saturdays, Sundays, and holidays from January 20th to February 25th.
Please contact us for group reservations
Opening Times
During the times that tree run areas are open
Subject
A,People who have experienced tree run courses (at Geto Kogen or at other ski resorts)
Go to the 'Heavy Snow Tree Run Guide'
We will take you to the best places of the day from the various tree run courses at Geto Kogen, considering the lack of tracks and weather conditions. All of the tree run areas are covered. B, For those who have never experienced a tree run course.
Go to the 'Tree Run Experience Program'

A program for those who are unfamiliar with tree runs. Guides will do their best to support your tree run debut!
You can choose the location according to your skill level.


※*For both A and B, participants must be able to control riding in ungroomed snow and be prepared with relevant equipment.

Reservation
「You can make a reservation from the Reservation Form.」
Reservations on the day
On Saturdays, Sundays, and holidays, reservations can be made in advance or on the day if there is space available. Advance reservations are always required on weekdays.
Reception
Mountain Information
Meeting Place / Location
Mountain Information / Inside Tree Run areas
Reception / Opening time
15 minutes before reception / 10: 00am until 12:00pm
Other information

※The charges include accident insurance.
If you would like a private guide, other plans are available. Please contact us directly.

Priority gondola rides are available during the tour.
It is obligatory to wear a helmet in the Tree Run Areas.
If you do not have a helmet, you can rent one at the Rental Corner.
Depending on the amount of snow on the day, it may be difficult to ski without a powder board.
If you do not have a powder board, please consider renting one depending on the conditions on the day.
Please note that skiing guests may be guided by a guide snowboarding guide.